In this article, I will be presenting my choice for the Senators team awards. The awards discussed in this article will be Defender Of The Year, Best Goaltender, Most Dedicated, and Clutch Player Of The Year. For each award, I will do a small breakdown of how I determined my winner and I will also list one or two honorable mentions. The criteria for each award will be discussed when announcing the winner. Without any further ado, here are your Ottawa Senators NHL 2022/2023 team awards.
All stats courtesy of Moneypuck.com
2022/2023 Ottawa Senators Awards
Most Dedicated Player
The first award to discuss is the Ottawa Senators "Most Dedicated Player" award. For this award, I looked at which player I felt put everything on the line night in and night out. While they may not have been the most productive player, or the most talented, they made sure to do everything they could to help the team win hockey games.
Winner: Travis Hamonic
Honorable Mentions: Austin Watson, Brady Tkachuk
I am pleased to present Travis Hamonic as the well-deserving recipient of the Ottawa Senators "Most Dedicated Player" award. Hamonic's commitment and resilience on the ice set him apart throughout the season. Hamonic was nothing short of a warrior, he fearlessly put his body on the line, evident by his great shot-blocking numbers. Hamonic had an outstanding 143 blocked shots, the second-highest on the team, and an impressive average of 6.16 blocks per 60 minutes (1st on the team). Hamonic consistently displayed a great level of dedication to protecting his team's net.
Despite facing various injuries, Hamonic's determination remained unshaken. He was found on more than one occasion to be playing through minor injuries showing his tenacity and loyalty to the team. Among the team's defenders, he was second only to Artem Zub in hits (109). Hamonic's willingness to engage physically showed the team he was invested and willing to fight every second he was out there.
Hamonic's contribution extended beyond physicality and defense, as he also managed to make an impact in the offensive zone. He tallied a respectable 21 points in 75 games, proving his ability to generate some level of offense while maintaining his responsibilities. This approach exemplified his commitment to being a well-rounded player who consistently gave his all.
Best Goaltender Of The Year
This award is quite self-explanatory, I took a look at goaltenders Anton Forsberg, Mads Sogaard, and Cam Talbot to decide who I felt had the best season. While this was the weak point of the team this year, there is a guy who quite clearly stood apart from the pack.
Winner: Anton Forsberg
Honorable Mention: Mads Sogaard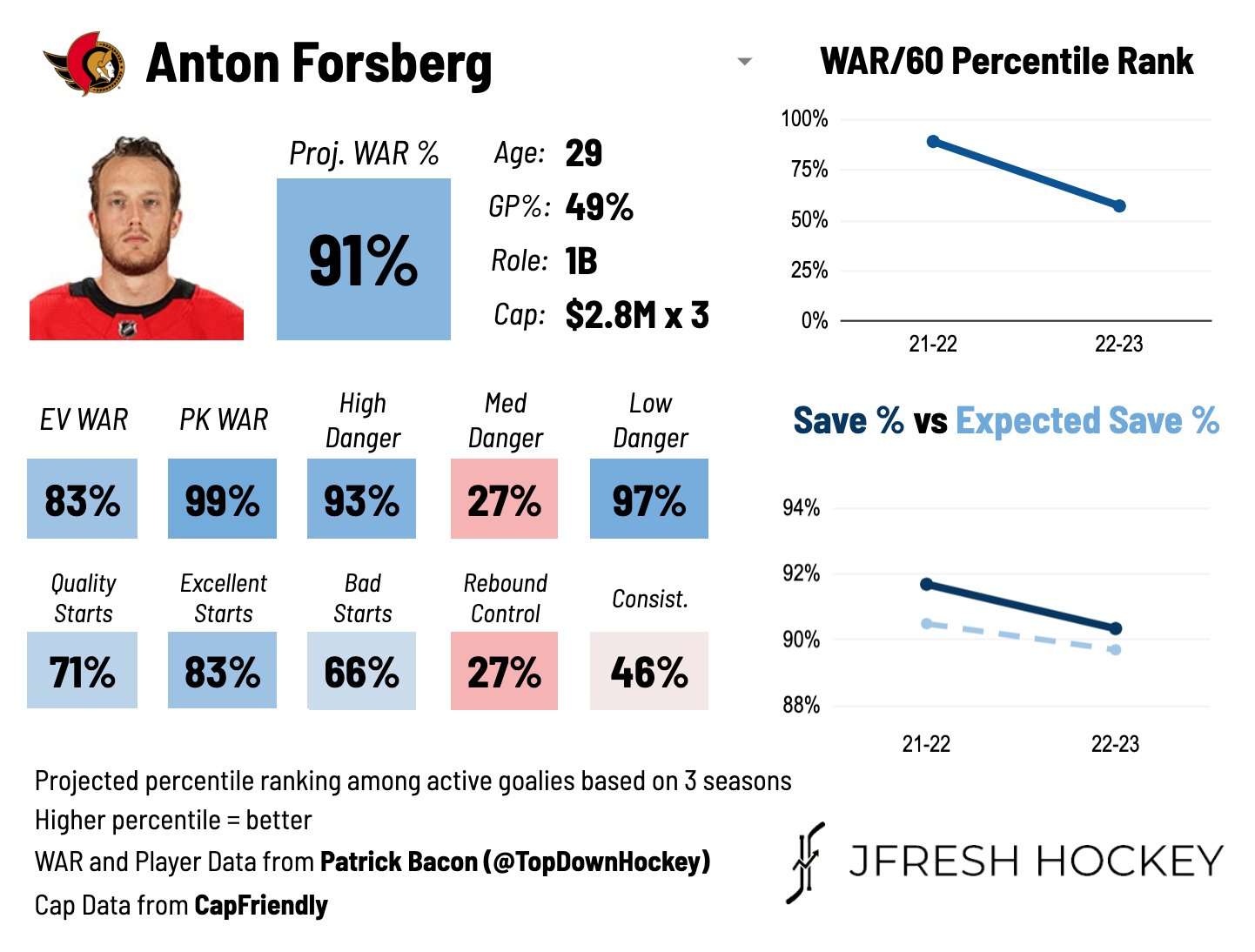 I am pleased to recognize Anton Forsberg as the rightful winner of the Ottawa Senators "Best Goaltender" award. Although his record of 11-11 might seem average, his contributions and significance transcend beyond wins and losses. According to his advanced stats, Forsberg was remarkable and had a big impact on the team's successes.
Forsberg had a wins above replacement (WAR) statistic of 1.35 signifying his invaluable contributions to the team's overall performance. Despite a .500 win-loss record, his exceptional play likely elevated his team's performance in the standings, making him a valuable piece between the pipes.
Forsberg also had a somewhat respectable save percentage of .902. This does not tell the true story however as he was often left out to dry by his teammates. Forsberg exhibited remarkable consistency and reliability in the net. His ability to make crucial saves and maintain a high level of play under pressure significantly helped his team's success. Forsberg's goals saved above expected (GSAx) of 8.1 reveals his ability to make extraordinary stops beyond what would typically be expected from a goaltender.
In comparison to his goaltending counterparts, neither Talbot nor Sogaard managed to achieve a positive GSAx. Forsberg's ability to consistently exceed expectations and make key saves sets him apart as the top goaltender in this mock award ceremony.
Clutch Player Of The Year
For this award, I looked at the player who always seemed to come up clutch in the pivotal moments of the season. When the team needed a goal, or some sort of boost of energy, or someone to make a key play in the defensive zone this guy was there.
Winner: Claude Giroux
Honorable Mentions: Brady Tkachuk, Tim Stützle
I am thrilled to announce Claude Giroux as the worthy recipient of the Ottawa Senators "Clutch Player of the Year" award. Giroux's ability to rise to the occasion and deliver in critical moments truly sets him apart. With six game-winning goals (GWG) this season, tied for the most on the team, he consistently demonstrated his knack for scoring when it mattered the most.
Beyond his scoring prowess, Giroux played a vital role in the team's success by excelling in crucial faceoffs. He was relied upon to win important draws, showcasing his ability to come through in pressure-packed situations and provide his team with valuable possession. Giroux finished the season with a faceoff percentage of 58.3% good for the team lead and tied for 7th league-wide.
Claude Giroux's remarkable ability to score crucial goals, excel in important faceoffs, and bring a composed demeanor to high-pressure situations make him the epitome of a clutch player. His six game-winning goals, reliance on faceoffs, and experience all contribute to his well-deserved recognition as the "Clutch Player of the Year."
If you would like to hear more about Giroux, check out my article discussing his full season, https://sensnews.ca/2023/05/13/a-season-in-review-claude-giroux/
Defender Of The Year
For this award, I looked at the Senators defender that I felt had the most overall positive impact on the team's success. I weighted both their offensive contributions as well as their defensive ability to decide on my winner. A note worth mentioning is that I excluded Jakob Chychrun from this award because he had only played a handful of games with the Senators this season.
Winner: Jake Sanderson
Honorable Mentions: Thomas Chabot, Erik Brannstrom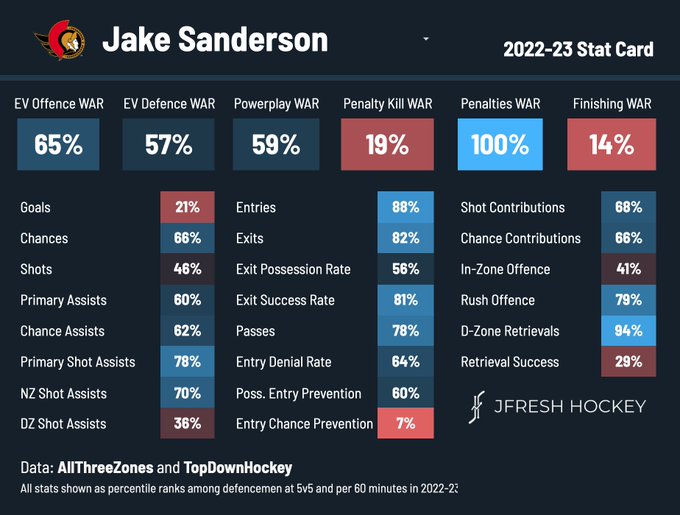 I am pleased to introduce Jake Sanderson as the rightful recipient of the Ottawa Senators "Defender of the Year" award. Sanderson's outstanding first campaign revealed his prodigious talent and significant influence on both sides of the ice. He showed that he could contribute offensively while still fulfilling his defensive duties with a great 32 points in 77 games.
Sanderson's disciplined play was also noteworthy, as he accumulated only 12 penalty minutes throughout the entire season. This level of discipline exemplifies his maturity and ability to make sound decisions on the ice. Furthermore, Sanderson's defensive contributions were invaluable to his team's success. With an impressive 147 shot blocks, he consistently put his body on the line to protect his team's net. His dedication to defense also extended beyond shot-blocking, as he also excelled in takeaways, leading the defense with 33. This ability to disrupt opponent's plays and regain possession further solidified his impact as a defender.
His ability to make an impact at both ends of the ice sets him apart and makes him the deserving recipient of the "Defender of the Year" award. Sanderson's exceptional talent, work ethic, and defensive contributions make him one of the most important pieces for this team's success.
If you would like to hear more about Sanderson, check out my articles discussing his full season, https://sensnews.ca/2023/05/19/jake-sandersons-a-season-in-review-a-defensive-force-for-the-ottawa-senators/
and
https://sensnews.ca/2023/05/01/a-deep-dive-into-the-game-of-jake-sanderson/